Before digging deep to Crack the IELTS Exam in First GO, I hope you are aware about IELTS. It is the international English language testing system, which includes four modules:
Reading,
Writing
Listening
Speaking.
The test is governed by the British Council, IDP education, Cambridge Assessment English. The main purpose behind this test is to assess the English language proficiency of non-native English speakers.
IELTS TEST Official Structure
The total test time is 2 hours and 45 minutes. There will be 2 sittings to accomplish this exam; listening, Reading, writing are done in one sitting and on the other the student has to give a speaking test on some specific date.
| TEST SECTIONS | DURATION |
| --- | --- |
| listening | 30 minutes |
| Reading | 60 minutes |
| Writing | 60 minutes |
| speaking | 11 to 15 minutes |
There is no limit on the number of times you can attempt the examination however it is recommended to prepare carefully before you retake the exam.
Results of the test are made available on the 13th day after you have taken the exam on the website of conducting partner i.e. IDP Australia or British council. You can also apply for an enquiry on results procedure at your test centre within six weeks of the test of the test date. Must pay an enquiry fee which is fully refunded if your band score changes.
These are all the basic information of the IELTS examination, a person should know before giving the exam. Now come to the point of how to crack the IELTS exam on the first go.As i earlier mentioned that there are 4 modules under this test.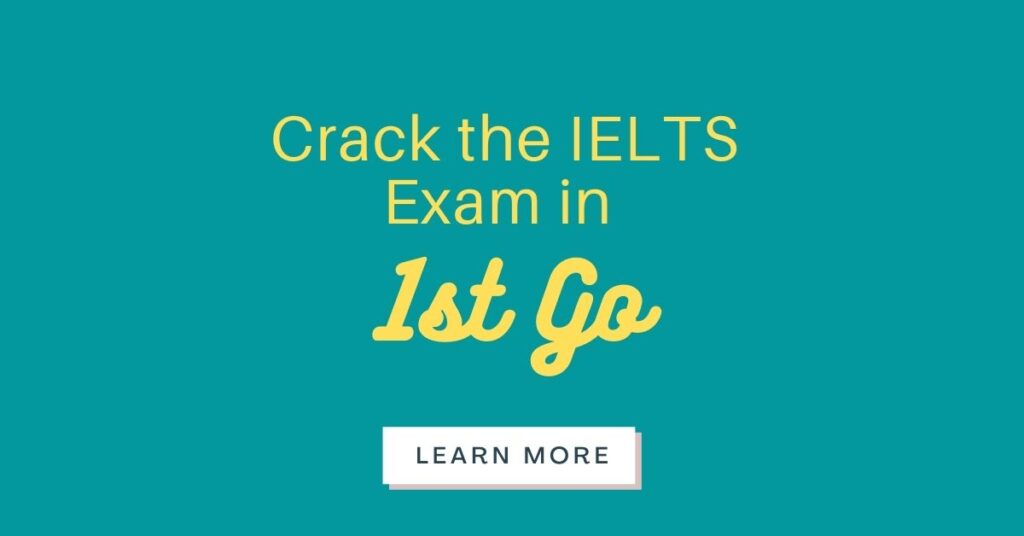 FOLLOW THESE TIPS TO Crack the IELTS EXAM
READING TIPS
This consists of 40 questions which you must answer in 60 minutes and this test is divided into three sections;the series of these questions will be from simple-moderate to difficult. To crack the ielts exam follow these ielts reading tips
Effective time management:
The main thing which is important in this test is time management and you can manage your time by practising at home. It is suggested to divide sections partially; complete section 1 and 2 in 15 minutes or less on the other hand complete section 3 in about 30; This will give you enough time to revise your answer.
Not to overthink!
As a student you might tend to overthink and overanalyze a lot. When you are solving the reading questions there is no limit to thinking during the 60 minutes of completing reading questions. As a result you might incomplete your answer or can create a mess in between.
Create interest
Create some interest in reading newspapers and novels. This not only creates efficiency in your reading but also increases your vocabulary understandability.
Apply the rule
First scan, then skim and after that summarize, which means before writing the answer just have a look at the question that needs to be analyzed, make a structure accordingly and then conclude according to your understanding.
Learn from your incorrect answer
It really helps to look at your mistakes and compare with the correct answers in the answer key and to reflect on where you made a mistake. You learn efficiently.
LISTENING TIPS
This module also follows the same pattern of 40 questions. You have to complete these sections in 30 minutes plus you have been given 10 minutes extra to check and rewrite this test in a fair answer sheet. To crack the ielts exam in first go, you need to follow these listening tips
Be quick
Listen to the speaker and then write the answer carefully.Try to analyze the accent of the people who speak english. Try "focused listening" not "random listening".
Avoid selective listening and selective reading.
Set up new hobbies
Start watching English movies or moreover you can listen to English songs too.
Dictate yourself with difficult words on a daily basis,this will improve your vocabulary by writing correct spellings.
Do remember
Remember that information in the audio always flows in the same order as the order of question. So, you have to be continuously going on by immediately moving to the next question instead of looking back for any skipped question or unsure marked answer.
Writing section consists of 2 sections: first one is see and write and second one is essay writing. This section is 60 minutes long.
Give at least 1 to 2 hours daily on:
Again dictate yourself with heavy words as spelling mistakes play an important role here.
To improve writing, start writing essays on a daily basis.
Time management
Another important feature of this section is time management, you have to improve your writing speed.
Try to complete this section in 50 minutes. This will help you to give grace time to thoroughly read your stuff once.
Do not exceed time
Analyze writing limits, don't write too much. Don't overlap the question by writing unnecessary stuff. Try to make your writing more relevant than lengthy.
Writing format
Make a structure for writing the essay as an introduction to the explanation and lastly conclude your stuff with a positive as well as with negative sides.
SPEAKING TIPS
This section takes 11 to 14 minutes. It is divided into 3 parts:
➭Introductory
(Introducing yourself to the examiner)
➭Cue card
(A task card will be given by a examiner in which certain topics will be written on that particular you need to speak)
➭Discussion
(On the basis of 2nd part,you will be expected to express your opinion more elaborately)
Try to Avoid
Avoid repeating back the words in the question.
Don't speak too fast or too slow.
Do not speak the answer you would have read in the sample papers.
Do not deviate from the topic.
Don't mumble.
Maintain fluency
Choose fluent English over vocabulary .It's easier to speak well rather than taking negative pauses in thinking of better words.
Practice Makes a Man Perfect …..
*IT TOTALLY DEPENDS ON YOUR PRACTICE THAT HOW MUCH TIME YOU WILL GIVE TO ACCOMPLISH YOUR GOAL..PRACTICE PRACTICE AND PRACTICE , IT WILL SURELY WORK!!!