The IELTS General writing task 1 basically measures your ability to talk about any issues. In writing task 1 you have only 20 minutes to complete the task. In this you have to write a letter to any institution or a company or to any individual person. Moreover the score for writing task 1 is also graded from writing task 2 essay.
Types of Letters you are being asked to write
In IELTS General Writing Task you may be asked to write these kind of letters.
Informal letter
Semi formal letter
Formal letter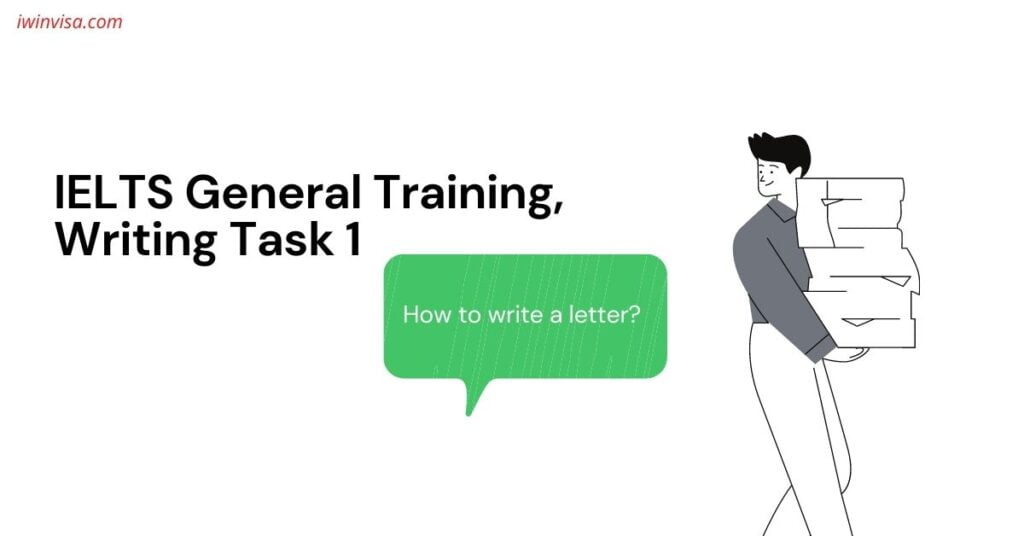 INFORMAL LETTER
In this type of letter you can write a letter to your friends, family members, or to your batchmates. Purpose to write this type of letter
Send invitations to your friends and family members of your birthday
Ask for suggestions from your friends
Tell them your experience of any visit
SEMI-FORMAL LETTER
This type of letter is written to the professor of your class or the landlord of your apartment.Purpose to write this type of letter
In this we can complain to our landlord about anything regarding the house
Through this type of letter we can ask for permissions from our professor
FORMAL LETTER
This letter is considered to be the most important type of letter because this letter is mainly written to the boss of the company or to any institution. Purpose to write this letter
Applying for a job in any company
Admission in any institution
Sending resignation letter to company
Opening and Closing of the letter
| | | |
| --- | --- | --- |
| STYLE | OPENING | ENDING |
| Formal | Dear Sir/Madam, | Yours faithfully, |
| Semi-formal | Dear Mr Dhillon,Dear Ms Ananya | Yours sincerely, |
| Informal | Dear Kunal,Dear Kirat | Best regards,Warm wishes, |
Key Point to Remember While Writing a letter:
Spellings must be correct.
Always write the correct spelling of your words which you are likely to use in your answer. With correct spellings you can easily boost up your score.
Handwriting must be neat and clean.
Always try to write neat and clean handwriting, so that the examiner can easily check your exam without any hesitation.
Letter must have at least 150 words
If your letter will not have at least 150 words you can lose your marks but if it has at least 150 words or more than that you can get a good score.
Finish in time
The writing task 1 of your IELTS general consists of 30% of the total writing score, so make sure you complete the whole letter before the given time, so that you can recheck your work too.
Use of phrases.
In letter writing you should add on some standard phrases. This makes your work interesting and easier for the reader to understand the meaning. Moreover, this also saves your time.
Your letter must be in four paragraphs.
In your letter you must have these four paragraphs.
Introduction
Situation
Action
Conclusion
IELTS General Writing Task 1 Scoring Criteria
Coherence & Cohesion
Coherence:Present ideas logically.Use structured paragraphs.
Cohesion:Write so points stick together, make sense and convey your message.Use standard expression & transition words.
Grammar range & accuracy
Use a wide range of grammar structures. Include different kinds of sentences like simple, compound, complex.Use effective punctuation.Use correct capitalization.
Lexical resource
Use a wide range of vocabulary naturally, correctly and fluently.Use correct spelling.Choose the right words.Use the correct form of words, such as verbs, nouns, etc. (word form).
Task Achievement
Do everything you are asked to do.Give a full developed response.Include/cover all the necessary points.Write 150 words.
Sample topics for IELTS General Writing Task 1
You enjoyed a trip organized by your institution. Write a letter to the principal and praise your teachers who accompanied you on the trip.
In your letter, you sould:
Describe the details of your trip
Explain how teachers were helpful to you
Suggest how the teachers should be rewarded
You recently went to drive your girlfriend's new car. write a letter to your girlfriend.
In your letter, you should:
Tell your girlfriend what you liked most about her new car
Suggest some modification for her car
Your views about her brand new car
You have lost your wallet in the train and called customer service to get help. You weren't happy with their response. Write a letter to the head of the railway authority.
In your letter, you should:
Describe the wallet you lost
Explain why you weren't happy with the customer service
Write a letter to your landlord complaining about the broken doors of the flat which you buy.
In your letter, you should:
Tell him how many doors are broken
How they can be fixed
Estimate cost to repair them
Conclusion:
So these are some important points and sample topics for IELTS General Training, Writing Task 1. I hope you got a good amount of information from this article. If you want more information regarding IELTS Writing Task, Contact I Win Consultants have missed any kind of information or topic please leave a comment in the comment box.